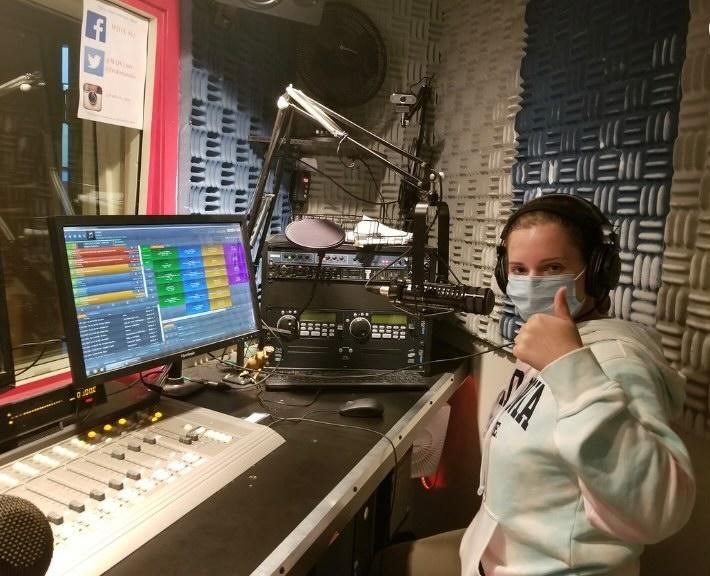 Heather Occhino, a successful female radio jockey was born in Long Island, New York. She was the only daughter, she grew up living with her mother, father, and two older brothers. She was more inspired to write, she used to write short stories on the computer she had in her home. She often used to listen to different types of music for hours while writing her stories. She often listened to pop and R&B that were popular in the early 2000s, when she was younger. This made music a big part of Heather's life. High School is the place where Heather developed her creativity and writing skills, after joining a creative writing club. She is now attending the State University of New York at Fredonia to earn a Bachelors in journalism to be a radio personality and currently has a show part of the school's radio station called 'Heather Talks Hip-hop'. Heather has found her passion and talent, she is working on developing her skills to give the best she can.
She loves hip hop music, listens to it frequently and knows a lot about this music genre, therefore she chose to discuss it on the radio. She listens to notable platforms such as Power 105.1 'The Breakfast Club' show and Genius, she has watched and heard a lot of videos about artists and their music, especially interviews of artists. She was a school sports news reporter during her senior year of high school, which involved interviewing people on camera and speaking about sports team games-that is her journalism experience so far. But she is learning and developing these skills to have a career in the radio industry through her studies and listening to notable platforms.
She now has her own radio show. The guest on her latest episode was one of her friends, Nyles. They had a good time as friends discussing and reviewing the unforgettable old school rappers like Tupac and Queen Latifah whose songs are heard through generations and also mainstream artists such as Lil Nas X, J. Cole, Lil Durk, and Cardi B. On the episode prior, she also gave her review on 21 Savage's 2017 debut album 'Issa Album', which involved going over some of her favorite songs on the project.
Exclusive Interview with Heather Occhino
We had the chance to interview Radio Jockey Heather Occhino. Here are the questions and answers below.
What's your background? What got you into radio jockey?
I grew up in Long Island, New York. I grew an interest in listening to rap music after being introduced to music by a few artists who were popular during the early 2000s like Eminem, Dr. Dre. Eventually, I heard the music of more artists who were emerging in the genre like Rick Ross, 2 Chainz, and Kanye West.
How long has music been a part of your life?
A very long time. Before I was introduced to rap music, I enjoyed listening to pop songs played on the radio when I was younger. I loved listening to Rihanna, as well as Lady Gaga-my dad even brought me a CD of her 2008-released album 'The Fame'. My mom also played a lot of R&B and old-school hip-hop artists in my household, like Biggie Smalls, Mary J. Blige, Missy Elliot, and Chris Brown.
If it wasn't for music, where would you be now?
If it wasn't for my avid love for music, I would probably be pursuing a career as a veterinarian right now. When I was little, I loved reading books about animals and being around them, like at pet stores. There used to be a litter of young kittens that would come to the backyard of my house growing up so I'd help my family take them in for care and give them away to whoever wanted them. I also thought I was going to be a veterinarian when I was younger and in elementary school, so I probably would be going to school to be one, if I wasn't pursuing radio journalism now.
How did you come to realise that radio jockey was the way forward for you?
I came to realize that the subject of music while involved in the journalism field was the way forward for me once I realized that it's an increasingly popular pursuit to be involved in radio, especially interviewing hip-hop artists on-camera. I've also seen a lot of independent media outlets on Youtube with videos uploaded of hosts interviewing rappers-whether underground or more notable names-so that in part inspired me to use my journalism skills to aspire to interview the artists whose music I listen to frequently.
What's the most trouble you've ever gotten into?
None because I'm lowkey about what I do. 😉 I'm joking but let's say my parents weren't very approving when I came home over the break from college with dyed hair and a tattoo. I don't really consider that as getting into trouble though. I don't really find myself in situations where I would.
If you had to sacrifice one skill, which would you least like to let go, and why?
If I had to sacrifice one skill, I would least like to let go of my writing skills. I always had a love for writing and even wrote a mini-story when I was in 5th grade, which I wanted to get published. Writing is also a very important skill to hone when you are working in the journalism field, which doesn't exclude radio, even though there are various roles involved in that specific area, such as technological programming. My writing skills are what helped me succeed academically in school and something which I can use to offer my assistance to production staff/teams for a radio station if they need someone to write articles for their company's website or perform another role related to that.
In what way do you aim to make a difference?
I aim to make a difference by providing more coverage to the music by hip-hop artists. A lot of music isn't just for entertainment-it tells a real-life story-and that's something you can find a lot of the time in the hip-hop genre. That's an aspect of the genre I appreciate. I really am looking to create a positive impact on the music and culture of hip-hop through shining a better light on it, since I have so much in-depth knowledge of many songs and would love the opportunity to personally interview artists whose music I've been listening to a lot lately. Also, other listeners of their music would appreciate finding out more about the artists they like following and their reasons/influences behind creating their music or projects.
Who's your fashion icon, and why?
I don't really have a fashion icon. There are some celebrities who inspire me to adopt a certain fashion style sometimes. For example, when I saw a picture of Billie Eilish with her hair dyed light green and black, it encouraged me to dye my hair half blonde and half black. I think dyed hair colors like those are pretty cool. I feel like it's becoming more popular for people, especially young people, to dye their hair different colors and I think it's great that people are doing what they think would look good on them, in terms of fashion.
Where is your career heading? What's the vision?
My career is heading to where I am to gain experience working with a team on a radio show, most likely for a corporation. My vision is to interview artists whose music I'm a fan of, on-camera, and use my platform to shine a light on the messages conveyed in their music, as well as to prompt open discussions about their creative process behind making their music.
# Tune in every Friday at 7pm ET on WDVL 89.5 'The Inferno' part of SUNY Fredonia's radio systems for new hip-hop-related content about music, culture, and more from Heather Occhino!