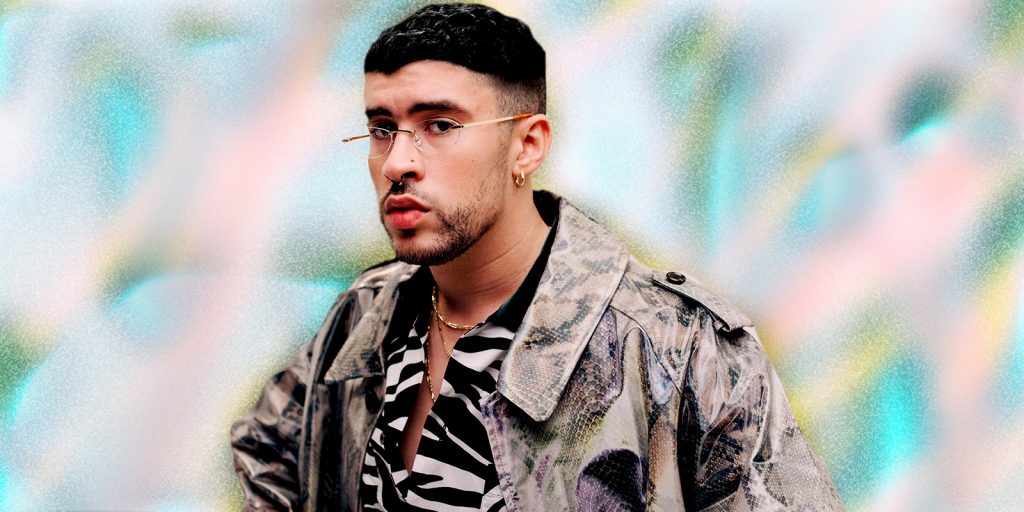 Bad Bunny is thinking back about the magnificent summer of Pokémon Go. In those days he and his companions would remain out until 7 toward the beginning of the day, heading to various pieces of Puerto Rico looking for virtual pocket beasts. As that season found some conclusion, he would start his flood toward superstardom, in the long run getting one of the most gushed specialists on Earth, and in any event, making that big appearance at the current year's Super Bowl halftime appear close by Shakira and Jennifer Lopez. Be that as it may, in 2016, he was still just Benito. He says he spent his "last long periods of opportunity" looking for a Pikachu.
As he transfers the story, he's about as a long way from that memory as you can get. He's in a huge meeting room at Twitter's Manhattan office on a dim evening in late February, clarifying a couple of his mysterious tweets. It's media day, and he's being driven from working to working in a dark SUV with vigorously tinted windows to advance his second independent collection, YHLQMDLG, which represents Yo Hago Lo Que Me Da La Gana, or I Do Whatever I Want. The record is a gesture to the reggaetón he held as gospel growing up, and to less complex occasions. Close to the start of the collection, he jokes that he's not a Pokémon an ex can get.
After Twitter, he moves into the vehicle, joined by his marketing specialist and his blue-haired beloved companion Janthony. Benito is wearing a plaid orange-earthy colored dark suit, a Gucci tennis T-shirt, stout beige shoes, and a bespoke white weave cap with rabbit ears enclosing his head and jaw. His nails, which have stood out as truly newsworthy for their manicured length and shading, are uncovered. Somewhat gold virgen and an Old English "B" stick around his neck.
We're headed to Apple Music, at that point Rolling Stone. The driver turns on the radio, and a gassed-up remix of Daddy Yankee's "Gasolina" calls from the speakers, as though on signal. Benito chimes in with its atomic extension: "Tenemos tú y yo algo pendiente/Tú me debes algo y lo sabes." On YHLQMDLG, Benito expects to invoke the seismic impact that 2004 hit had on well known music: to join the old enchantment of Puerto Rican reggaetón into pop's current texture. The collection highlights Daddy Yankee on an exactly as expected reggaetón romántico called "La Santa." On it, the 25-year-old Benito and his 43-year-old lover perfect exchange lines, the more youthful star's melodic despairing joined with the veteran's more promotion conveyance. The tune is a pocket history of where reggaetón has been in pop, and where it's going straightaway.
Awful Bunny originally settled himself as an unusual ability over several years of predictable hits in the Latinx standard, including the emotional snare song of devotion "Soy Peor," the piano number "Amorfoda," which flaunted his sweet baritone, and an abundance of scene-taking highlights. His 2018 presentation full-length, X 100PRE, saw him flipping between kinds—from trapchata to shake en español to dembow to pop punk—with a deft hand, and wound up at No. 43 on Billboard's Top 200 Albums of 2019 rundown. YHLQMDLG exchanges adroitness for detail, soundly concentrating on reggaetón, just as Latin snare tracks like the Puerto Rico tribute "P FKN R," which highlights tutors Arcángel and Kendo Kaponi rapping over beats that are progressively suggestive of Puertorro caseríos (lodging ventures) than manors in Miami.
The SUV weaves through Manhattan traffic as the radio DJ blends "Gasolina" into "Yamilette," a Daddy Yankee-DJ Playero profound cut from the mid '90s. We in the end show up at the Rolling Stone workplaces, where Benito is planned to play several melodies off the new collection. In a wood-framed meeting room, he sits down at the table's long edge before he is urged to sit at its head. He discreetly looks through his telephone and chooses a track called "La Difícil." An old fashioned steady rhythm rises through the speakers. "This is reggaetón," he says in Spanish. At that point, in English, he focuses on: "That is reggaetón from Puerto Rico."
On the tune, Bad Bunny tosses regard on a lady's down even as she gives everybody—him included—the apparition. Be that as it may, that baldfaced persona isn't in the room. Benito is for the most part mild-mannered, moving in his office seat. In the wake of playing another track, he shrugs and offers a little grin: "It is generally so difficult for me to show my music before individuals."