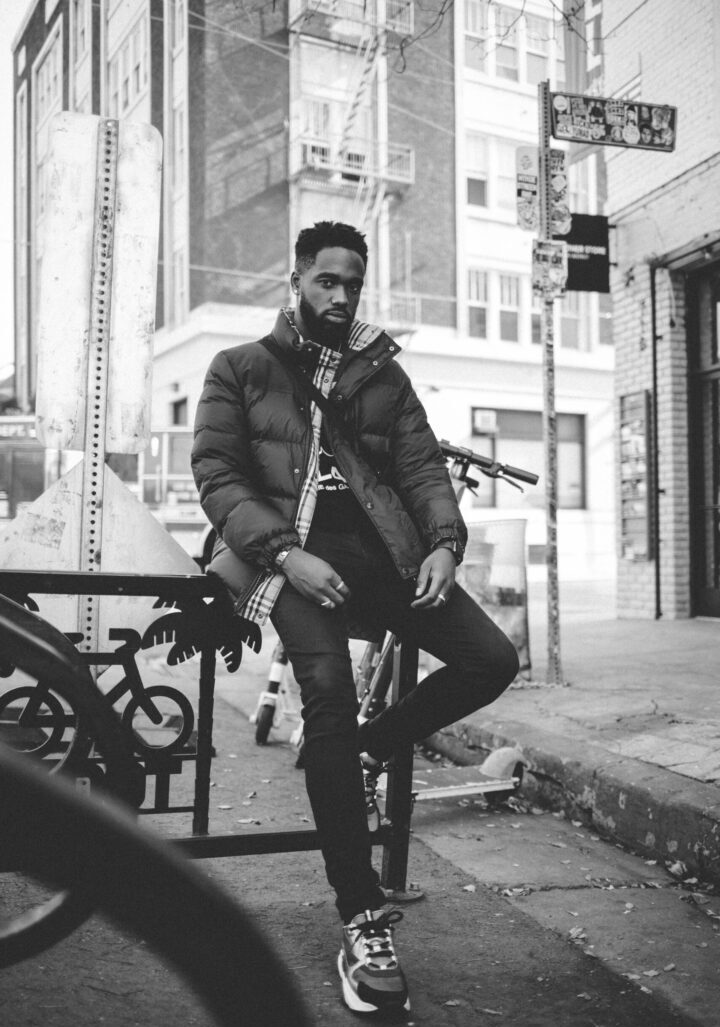 Artist Heartbreak Bongo is 28 years old and lives in a suburb north of Dallas called Plano. He comes from a perfect family; his mother is from EL paso, Texas, and his father is from Cameroon. He says, he has a passion for music for as long as he can remember, and his mother had him playing piano when he was younger. Heartbreak Bongo has always had a good life growing up, and whilst going through bad days, he always had great faith about things turning all well in the end! 
Heartbreak Bongo was a big sports person growing up, so at that time, sports was his main focus, right until he was 17. Well, he says, ' I have always been a big gamer as well, so I balanced those two things and girls majority of the time haha!! For this artist, rapping started off as just free styling with his friends anytime they used to be at any party. Later, a few of his mates started taking the hip hop style seriously, and thus, they decided to form a group and named it Geeksquad. This thing lasted about a year, so Heartbreak Bongo, the rapper, chose to continue with the other few artists for a few more years.
Finally, when he turned 22, Artist Heartbreak Bongo, decided to head to LA to pursue his music career, and that's when things really started to take off for him. He grew up mostly on Kid Cudi, Wiz Khalifa, Mac Miller and Chief Keef and has their style. He recently have a project dropping on September of 23, titled 'In My Speech' which will be his last rap project for a while as he plans on transitioning to a more pop/radio sound.
His expresses that, no matter how difficult the road to your dreams is, no matter how much time it takes, if you truly want something, hustle and chase it!
What's your background? What got you into rap music?
I come from a good family luckily. My dad is from Cameroon, Africa and my mom is from El Paso, Texas. I've always had a love and passion for music, my mom had me playing the piano when I was younger as well. I think listening to old school Gucci mane got me into rap, honestly. 
How long music has been a part of your life?
 Music has always been a part of my life ever since I can remember; it comes naturally to me.
If it wasn't for music, where would you be now?
I'd probably be working some 9-5 and hating life with a couple kids maybe hahaha.
How did you realise that music was the way forward for you?
 I think once I started dropping singles and getting great feedback from strangers is what really motivated me to take it seriously.
In what way do you aim to make a difference?
I don't aim to make any difference, I just enjoy making music and I hope whoever listens understands it as much as I do.
Who's your fashion icon and why?
 Don't really have a fashion icon but if I did maybe future. Seems like his outfit express his energy and vibe well.
What's the most trouble you have gotten into?
 One time I got tazed running from the cops at a party, I was on xans and super drunk and didn't feel anything. Got arrested that night and sat in jail for a week, I was 17 hahaha.
Where is your career heading? What's the vision?
Hopefully end up in some indie band one day as the lead singer, may pick up a instrument as well because I know how important that is band wise. Also want to have a radio/pop phase so I'm actually transitioning into that next. 
How would you describe your style of music?
I'd say my music sounds like alternative pop, but with trap beats and modern-day rap flows, I guess lol.
How do you put words to paper? What's your creative process like?
I pen down right from my heart, and I would never want to let go or share my creative/business mindset.
When it comes to performing, what's your style?
When it comes to performing I try and match the energy of the most lit people in the crowd and try to use that to pick everyone else up. Lots of movement and eye contact and whatever movements that will keep the audience engaged, haha.
If you could perform anywhere in the world, where would it be and why?
 I'd really love to do a European tour and kick it off in Copenhagen, Denmark! One of my favorite cities in the world.
What's your favourite project so far and why?
This up coming one titled "In My Special Place" I feel like its going to hit different. Really proud of myself on this one and think it will be a classic in time. People may not catch on immediately but in a year or so I should start seeing some solid progress. Check it out when it drops! It will be on all platforms.
How do you see your sound evolving in the next couple of years?
Want to stay away from any auto tune in the near future and use more of my regular voice. Want it to be less rap and more catered to all different types of audiences.