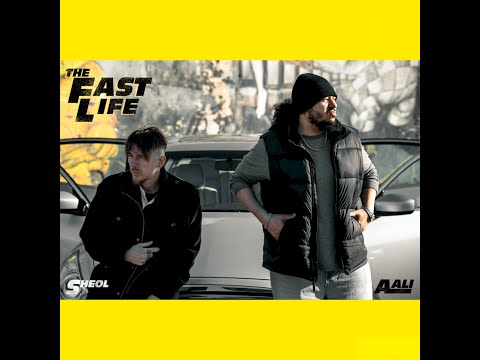 Swanson Holmes (a project in the center of Portsmouth) is where A. Ali spent his youth living with his mother, great grandmother, cousin, and uncle. He was also born in Portsmouth, VA. At that time, His family almost had nothing but each other which made them happier than people around them who had more wealth. Seeing his family suffer had a big influence on A. Ali's work ethic and turned him into a workaholic. As a youth, life taught him that family is more important than anything therefore he spends most of his time taking care of the people he loves. Now he's in a position to provide his family the things he never had coming up.
Ali was always interested in exploring the world, listening to music, writing lyrics, and creating art. At the age of 11, he started writing lyrics about life and his upbringing. He then started listening to more music by other artists in the genre which helped him hone and develop his skills. At first, his songs were about the struggle that a young, black, and poor kid faced in the PJs but after gaining experience he started writing about many more things that he thought should be addressed. According to Ali, writing music puts him in a place where he feels safe and relaxed. He shows his personality through his music, and developed a flexible and open mind in the process. He was told that he wasn't going to succeed unless he studied a lot about music so he studied music by legendary artists like Rakim, Jay, Nas, Big L, Big Pun, Busta, and a lot more. The more he learned, the more passionate he became to make original music and to prove the people who told him that he can't do it wrong. "My haters gave me the  motivation I needed to keep going." – A. Ali
           A.Ali focuses on quality versus quantity which is why he only releases music when it's ready. He has recently released a new single 'U BAD' just a few days ago on Oct, 29, 2021 and also released 'The Fast Life' on June, 25, 2021. He and his team are currently working on the music video and marketing for U BAD. Sticking to his promise to provide quality, the music video for U BAD was filmed in different parts of the world such as Jamaica, Germany, and Colombia. The Team is planning to include the filming in his home state of Virginia. For this venture, Ali has collaborated with dancer and model Kim Bashy who has worked with Grammy Award-winning Jamaican rapper Sean Paul, Vybez Kartel, Busy Signal, DJ No Mercy, and lots more. Kim is also the cover girl for the hot new single. This is Kim's first time as a cover girl but she definitely nailed it with the U BAD single cover.
            'U BAD' has brought a lot of attention to A.Ali since it was released on the radio and uploaded on all social media. A.Ali is now working with promoters in Houston which makes the marketing process a lot easier to catch the attention of a wider audience to expand his team's growth. It definitely seems as if 'U BAD' and his promoters out in Houston have been making a big splash in A.Ali's Music Career.  
Email: p.m.studiosva@gmail.com
 Press Release
Recent Interview
MusicMediaOutlet: https://www.youtube.com/watch?v=EfnGcQkgSHM&t=4454s
U BAD
The Fast Life (Promotional Track The Fast&Furious w/Music Video)
EAT THE TRACK (Part II)
What's your background? What got you into rap music?
I come from a mixed background. My pops is Jamaican and Puertorican and my mom is African American and Native American. What got me into hip-hop was my cousin Boo. He used to play a lot of hip-hop songs from OGs like Heavy D, Big Daddy Kane, Ice Tea, Bizz, and some more. Then I started listening to different artists like WuTang, Rakim, Eric B as well as NWA, UGK, and lots more. Before I knew it, hip hop became a way of life. 
How long has music been a part of your life?
Music has been a part of my life from the beginning. Mom and pops were probably listening to music when they made me lol  But my moms used to always play all those old school hits by groups like Earth, Wind and Fire, The Isley Brothers, Jackson 5, along with artists like Al Green, Marvin Gaye, Otis, Aretha and lots more so I've always loved music. 
If it wasn't for music, where would you be now?
If it wasn't for music, I don't know where I'd be. I say that because music has helped me make it through a lot of rough times and helped me shake off depression a few times. Music has also motivated me to do better and be better. Music has affected my lifestyle on so many different levels that I really don't know where I would be without it. 
How did you come to realize that music was the way forward for you?
Back in 2012, a promoter that worked for the website BlackPlanet by the name of Scorpio hosted a contest to make the first theme song for the site. Out of the thousands of people that submitted, they chose me which let me know that 1.) I had enough talent to catch somebody's attention. At the time I wasn't ready for the fame because after I won the contest, they promoted the hell out of me to the point where I was getting between 300-500 messages a day from fans, promoters, and indie labels. It got to a point where I was so overwhelmed I had to take a step back. At the time I didn't have a team backing me so I definitely wasn't ready. 
If you had to sacrifice one skill, which would you least like to let go, and why?
My ability to communicate. I really wouldn't want to let that go because communication is key to everything. Matter of fact, music is all about communication. When you make a song, you're sharing a part of your soul with the world. It's a direct way to communicate with people you may never know so yeah, I definitely don't want to give that up. 
In what way do you aim to make a difference?
In music, I want to deliver something different and original and I believe I have just that but I haven't officially released it yet. It's a song called Walking Away. Walking Away is an original story based on a painful part of my life. Being that it hasn't been officially re-released yet (because it was featured in a movie back in 2019), I don't want to say too much but it's definitely a song that's going to make an impact in music because it's different from anything else on the market. If I was to describe Walking Away in one word, I would call it powerful.
I also want to start a non-profit geared towards helping kids who are victims of assault. That, along with helping single dads of color navigates the legal system to help them reunite with their kids and families. That's something I'd like to do after I get myself established as a songwriter and artist.  
Who's your fashion icon, and why?
I'm not really big on fashion so I don't have an icon. When I was coming up, I used to wear my cousin's hand-me-downs so clothes are clothes to me but I do like to match. I love shoes too, especially Js. 
What's the most trouble you've ever gotten into?
Coming up, I used to wild out. I used to run the street 100 miles an hour and back I caught a few charges. Breaking & Entering, DUI, Possession Schedule 3, and I was on the run for 6 months at one point in time. I got a bunch of minor charges too but those were the big ones. I'm not sharing this with you to glorify my past but to let people know that your past shouldn't and doesn't have to define you. As much crazy shit I did back in the day, I did twice as much good shit like volunteering to help kids who were victims of abuse, mentoring with kids that lost a loved one, even working with the Peace Corp and AmeriCorp to help kids get on their correct reading level in several elementary schools in the city so my past is my past but it doesn't define me? I see it as another chapter of what made me who I am today. 
Where is your career heading? What's the vision?
As a studio, our goal is to provide quality work. We want to start with music and work our way up to movies. I'm a song and screenwriter and I've actually written 7 movies to date but started 9 total. Some are comedies, drama, action but the goal is to eventually produce movies but quality movies. I feel like if anyone takes the time to check out our work, then I want it to be the best that it can be. At P&M, we believe in quality over quantity so that's what we want to deliver. 
How would you describe your style of music?
I consider my style to be versatile because I look at things from different angles and from different lenses when I'm writing a song versus dropping a freestyle and my attitude and energy is way different. Do you remember when Nikki Minaj was like she got like 9 people living in her head? Well, I ain't got that many but I do go by 2 different names when I'm making music. I use A Ali when I'm writing an actual song that's structured or has a message but when I'm dropping like a freestyle or a song that's hard or that's packed with a lot of lyrical content, that's when I'm on my Louie shit. 
LouiXIII is the name my brother Nick gave me when we were freestyling over a bottle of LouisXIII one night. We tore down that night too and at the time, I did have a rap name so we just started freestyling and he was like "yo..your flow is like this drink so that should be your name." And I've been using it ever since but the energy when I'm in the frame of mind is way different from when I'm composing a song. It's like Night&Day 😉
How do you put words on paper? What's your creative process like?
First I got to hear a beat. Whether it's in my head or just an instrumental I'm listening to but I let the beat talk to me first. Then I figure out how I want to approach it as far as style and juggle. After that, I usually come up with a few lines and either build a concept around it or just continue with any lines that pop up in my head but the beat really sets the tone. After I have a solid concept or foundation, I take it a line at a time. After I'm finished with draft 1, I go over it all over again tightening up lines and seeing how I can make parts flow better or sound good. Maybe I'll reposition a line or two to make it sound more metaphorical or complex depending on how I feel. After that, I let it go, and it's on to the next one.  
When it comes to performing, what's your style?
I've only performed a few times so I don't even have a style yet. I guess we'll see what happens in the future but no matter what style I develop, I'm going to own it. 
If you could perform anywhere in the world, where would it be and why?
I wish I could answer that but I don't have a favorite place, to be honest. I guess it would have to be wherever they're paying me the most because we got to eat. Wherever the money is, that's my favorite spot. 
What's your favorite project so far, and why?
It's a toss-up between Walking Away, I Still Love You (a new joint produced by DJPain1) and a vicious joint called Shinigami (also produced by DJPain1). Walking Away is a track that's close to my heart because it's personal and deep. I Still Love You is a hot joint too. I think my verses really fit the mood of the track because it's loaded with smooth lines plus it holds sentimental value. We also got a heavy hitter singing on the hook that really brings it all together but Shinigami…now that's CRAZY. I might get a call from Em after I drop that one. That's some bold shit to say but I wouldn't be surprised. Without saying too much, Shinigami is "Louie's" first single and I promise you, it won't disappoint. Now I got to shut my mouth lol
How do you see your sound evolving in the next couple of years?
I see it getting better, more precise. As long as I can still do it, I want to try and push the boundaries and push myself to a higher plateau. I feel like that's what everyone deserves. That's what I plan to give.